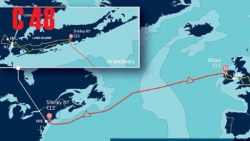 Nokia and Facebook have announced the success of an experimental test performed on a fiber optic circuit along 5500 km between New York and Ireland, which rests in the ocean floor.
The innovative technology Nokia born in the laboratories Bell, Probabilistic Constellation Shaping (PCS), has reached an outstanding record
between the transmission speed and the amount of data transmitted.
The capacity increase in the link, and 'one of the few and precious link that unites America to Europe,
It registered an increase of 2.5 times more capacity, no need 'to upgrade any hardware.
The success of the promises the achievement potential in the future to speed transoceanic 32 Tb / s,
useful to encourage the dissemination of live streaming and virtual reality.
Mario Savigni