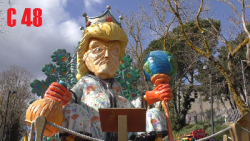 EVERYTHING IS 'DONE WITH ORDER AND SAFETY. LITERALLY TAKEN ASSAULT THE CITY OF TOURISTS AND PEOPLE ARE COMING FROM ALL PARTIES SARDINIA, WE SAW THE RUNWAY IN THOUSANDS AND THOUSANDS OF PEOPLE WITH COSTUMES REFINED AND COLORFUL, FLOATS ALWAYS MORE BEAUTIFUL AND GROUPS extemporaneous ALONG THE PATH WITH WONDERFUL CHOREOGRAPHIES, DANCES OF ANY KIND, FUN.
Inevitable digs POLICIES SIGN MADE FROM ART DIRECTOR "ALESSANDRO ACHENA AND COMPANY" IN PROCESS
AND APPLICATION TO THE KING GEORGE BURNING, FOLLOWED BY LAUGHTER AND JOY FIRES FIREWORKS ... FABULOUS.
SHORT GOOD! THANK YOU AND SEE YOU AT THE CARNIVAL 2018.