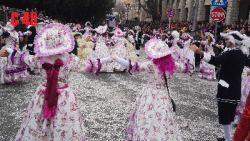 FAVOURITES FROM BEAUTIFUL SUNNY DAY I HAVE SFILATO 9 CARRI A COMPETITION WITH MANY GROUPS EXTEMPORANEOUS WELL ORGANIZED AND COLORFUL, MASKS WITH COSTUMES WONDERFUL, THE DAYS ARE DANCING.
YOU BETTER IN QUALITY 'AND ORGANIZATION BUT POOR The ASTREAM IN FIRST DAY FOR THE VARIOUS CARNIVALS ORGANIZED IN COUNTRIES.
SUNDAY AND TUESDAY 'REPLICA YES, we'll see, WE EXPECT THE GREAT CROWD.