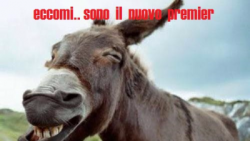 The puppet of Florence, with the usual talk and promises, can not do without pollutant.
Falling companies, agony banks and factories that close or go abroad for exorbitant taxes,
Inflicted by the PD government, once again chose to drive Italy, kneeling, full of unemployed and debts made
From his government, who always starts but never arrives, invaded by the clandestine, with a crime never seen.
Just downgrading Italy, but the king of taxes does not deny, with arrogance insists on fairy tales,
To the party's leader of despair, debt, a party now destroyed by inquiries and promises never held.
Enchanting an audience by the end of endurance seems impossible to us, unless there is a magic
With the help of Silvan magician.