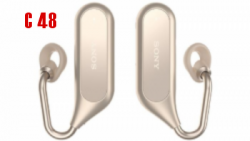 Technology - Mobile World Congress is under way in Barcelona. Sony has decided to revolutionize the concept of wireless headsets. With the multinational's patent it is possible to listen to music without isolating oneself from the surrounding environment. The earphones also respond to the movements of the head. The technology is called 'Dual Listening' and allows you not to completely cover the ear duct, but to listen to songs and at the same time perceive sounds, conversations and even notifications.
The function is certainly useful while running. To minimize the loss of sound, Sony has developed the Clear Phase technology that promises to return a clear sound. The earphones are called Xperia Ear Duo and also respond to the movements of the head: there are sensors that allow you to answer or reject incoming calls simply by nodding or shaking the head, as well as moving to the next
song by moving the head left or right .
NEWS48
Redazione C 48